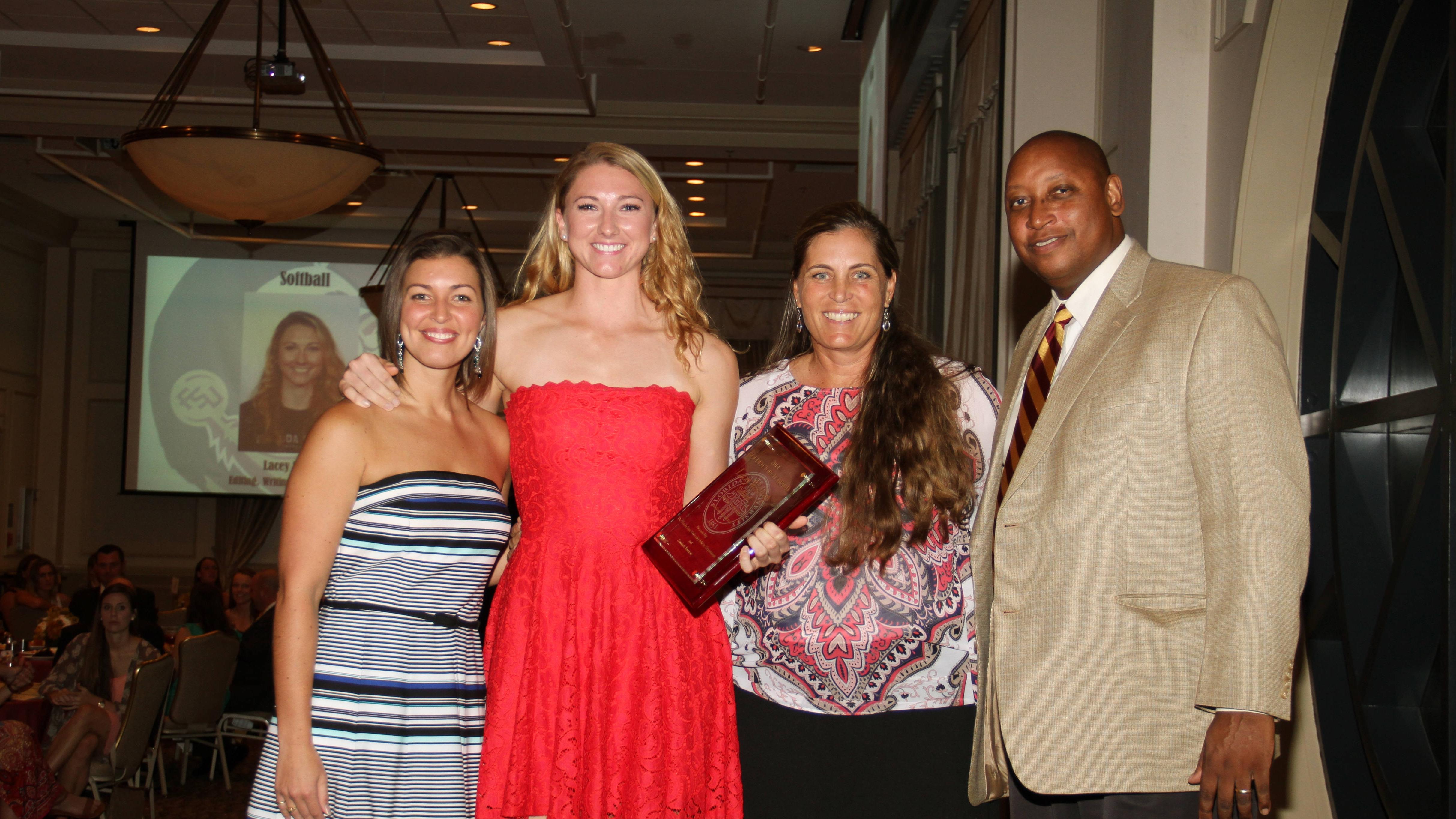 October 2, 2014 - by Seminoles.com
2014 Golden Torch Awards Celebrates FSU's Top Student-Athletes
For 24 years now, the Golden Torch Gala has been one of few events nationwide which solely recognizes the success of student athletes' off the playing fields. The student-athletes recognized bring distinction and honor to Florida State University by continuing to reinforce FSU's position as a superior academic and athletic institution. 
These are FSU's most visible ambassadors and their hard work promotes the best interest of Florida State University.  Their academic achievements are also a tribute to the many individuals and groups on campus who support the mission of the athletics department throughout the year. 
Individual Golden Torch Award Winners
Mike Compton returned from Tommy John surgery in 2013 and went 7-3 with a 3.23 ERA in 15 starts for the baseball team in 2014. He recorded 50 strikeouts and issued just 19 walks in 83.2 innings of work. Mike finished tied for 13th in the ACC with seven wins. The Branson, Mo., native is majoring in applied economics and is a three-time member of the ACC Academic Honor Roll. Mike was named to the All-ACC Academic Team in 2012 and 2014.  And he is a repeat winner of the Golden Torch for Baseball.
Women's Basketball forward Gabby Bevillard spent her freshman season inspiring her teammates as she was forced to miss the year due to a season-ending knee injury in the preseason. Gabby was named the team's Ronalda Pierce Heart Award winner for her toughness and perseverance in battling back from injury. The native of Bishop, Georgia, is a sport management major who boasts a 3.654 GPA, and her career ambition is to someday work in an athletic department.  
The winner of the 2014 Golden Torch for men's basketball is Brandon Allen.  Brandon helped lead the Seminoles to the semifinals of the NIT as a freshman.  In his first season as a Seminole, he played in 14 games, five ACC games and in three of the Seminoles' four NIT games in 2014 as the Seminoles earned a 3-1 record and advanced to play at the famous Madison Square Garden in New York City.  He was named to the ACC Academic Honor Roll and has a 3.563 grade point average in electrical engineering. 
A graduate student in Nutrition & Food Science, Hannah Walker posted a perfect 4.0 GPA while helping the Seminoles to their sixth consecutive ACC women's cross country title and fourth consecutive NCAA South Region championship. Hannah earned All-ACC and All-Region honors for the Seminoles, who finished eighth at the NCAA Championship meet. She was also earned All-ACC Academic and USTFCCCA All-Academic honors.
Senior Jacob Zivec closed out a stellar cross country career with the Seminoles in 2013, earning All-ACC Academic honors for the fourth time. Battling back from an injury that required surgery, Jacob recovered in time to compete at both the ACC Championships and the NCAA South Region meet, where the Seminoles placed third. Those races served as a springboard to strong indoor and outdoor track seasons for Jakub, who earned his Finance degree and posted a 3.50 GPA.
Redshirt sophomore defensive back Colin Blake was a key piece to FSU special teams units during the Seminoles undefeated 2013 national championship season. The San Antonio, Texas, native appeared in 11 games and made three tackles while starting much of the season on the kick return unit and also seeing action on the kickoff coverage squad.  Colin and his teammates set a host of NCAA record last season and recorded just the second perfect season in FSU history.
Selected to the All-ACC women's golf team in 2014, Alex Milan is the Golden Torch winner for Women's Golf.  She earned her first career collegiate individual championship as she claimed medalist honors at the Florida Challenge in spring of this year and helped the Seminoles to the team championship at the Web.com Invitational in 2014.   Alex has earned four top-10 career individual finishes.  She has a 3.452 Grade Point Average in finance.
Sophomore Anthony Alex competed in four tournaments last year for the Seminoles while maintaining a 3.75 GPA in the classroom. The business major finished in a tie for 25th at the Crooked Stick Intercollegiate for his best showing of the year. A native of Ponte Vedra Beach, Florida, Anthony was named to the 2014 ACC Honor Roll.
Sophomore Josh Lee won the U.S. Amateur Public Links Qualifier in St. Augustine this summer after playing in seven tournaments for the Seminoles last year. The Orange Park, Fla., native finished tied for sixth place at the Olympia Fields Invitational this fall. The business major held a 3.64 GPA last season and he was named to the 2014 ACC Honor Roll.
The sand volleyball team will be looking forward to the return of Katherine Plessy to the lineup this spring after the redshirt sophomore sat out last season with an injury. As a freshman in 2013, Katherine was one of the Seminoles' top players, compiling a 21-7 record as one of the nation's top rookies. The Marietta, Ga., native capped her first season by going 3-1 at the AVCA National Championships.
Kacy Scarpa made 11 appearances in her first full season with the Soccer team a season ago. She registered her first career shot against Colorado in the third round of the NCAA Tournament. Kacy saw action in eight of FSU's nine postseason games including all three matches in FSU's run to an ACC title. So far this year, the Lakeland, Fla., native has two assists – both coming against Stetson for her first career multi-assist game. Kacy, who is majoring in exercise science, is a two-time member of the ACC Academic Honor Roll.
Lacey Waldrop had an amazing season in 2014 as FSU reached the Women's College World Series. A senior from Chester, Va., Lacey was named the USA Softball National Player of the Year as she led the NCAA with 38 wins and recorded a 1.13 ERA. A senior, majoring in Editing, Writing and Media, Lacey was honored as a member of the 2014 ACC Academic Honor Roll, posting a 3.781 GPA, and wrote a blog throughout the season that was published online by espnW.
In her first year with the Garnet and Gold, Lydia Ware placed eighth in the 100 back at the Bulldog Invite and 10th in the 100 free with a career best time of 51.04. Lydia began her collegiate career with victories in the 50 free and 200 IM races in the tri-meet against West Florida and Tulane. The Jacksonville, Fla. native is majoring in exercise science.
Hannah Wilson finished her collegiate career at the 2014 ACC Championships, where she competed in the 50, 100 and 200 free races. As a model student-athlete, she was given the ACC Sportsmanship Award and she was named to the 2013 FSU Homecoming Court. Hannah served as the SAAC president for two seasons prior to graduation. The Tupelo, Miss. Native majored in Public Relations and is currently serving as the ACC Championships Intern for the 2014-15 season.
Tom Neubacher finished his collegiate career as one of just two divers in ACC history that competed in a perfect 12-of-12 ACC Championship finals. At the 2014 meet, he placed seventh on platform and 1-meter and he added an eighth place finish on 3-meter. Tom was also named as an ACC Postgraduate Scholarship Winner and this is his third Golden Torch award. The Windermere, Fla. native majored in Sport Management.
Mia Vriens was 16-11 in singles and 10-9 in doubles during the 2013-14 season. The Sydney, Australia native dominated early in the season in singles, winning her first seven matches, eight of her first nine, and won a total of eight sets in the spring with a flawless 6-0 score. Her straight-set victory over Lauren Marker, helped FSU to an upset victory over No. 27 Arizona in the first round of the 2014 NCAA Team Championships. MIA was named as an ITA Scholar Athlete, which contributed to the ITA- Academic All-American status earned by the team.
Senior Cristian Gonzalez Mendez is a three-time Golden Torch winner for men's tennis. Cristian led the 'Noles in 2014 with a 27-8 record and ranked as high as No. 65 in the country. He was named a third team All-ACC selection following last season. The public relations major recorded a 3.85 GPA while leading the men's team to a GPA of 2.99. Cristian is a three-time ACC Honor Roll member and a two-time ITA All-Academic Scholar-Athlete.  
Hannah Acton continued her ascent as one of the top pole vaulters in program history as a sophomore. She won three outdoor meets and qualified for the NCAA East Preliminary round with a new career best of 4.02 meters (13-3.75), which ranks No. 3 in FSU history. Hannah also set a new indoor best with a mark of 3.90 meters (12-9.50). An Exercise Science major, who earned All-ACC Academic and USTFCCCA All-Academic honors, she has maintained a perfect 4.0 GPA throughout her first two years.
BreeAnne Campbell enjoyed her finest season with the Seminoles last year posting four top-seven finishes in the outdoor discus. The highlight of her season came at the Seminole Invitational when BreeAnne unleashed a new career-best throw of 45.87 meters – 150-6 – which moved her into ninth-place on FSU's all-time career list. She graduated with a degree in Creative Writing with a 4.0 GPA over her final year.
Stefin Brits helped the Seminoles win the 2014 ACC Indoor Championship, placing fourth in the long jump with a season-best mark of 7.44 meters – 24-5. Though an injury forced him to miss the outdoor season, Stefin earned All-ACC Academic and USTFCCCA All-Academic honors. He was also named to the Capital One Academic All-American team for the second consecutive year.
Katie Mosher is 43 digs away from setting the new FSU All-Time Digs record while helping her team to a 13-0 start and currently the highest ranking in school history. Katie turned in another top season in 2013 with 506 digs for the fifth-best performance in school history. The three-year captain led FSU to the NCAA Regional Semifinals following a 3-2 win over Florida in the second round in Gainesville. The Fort Myers, Fla. is majoring in sport management.
Sarah Wickstrom is in her second-year as a team captain. In 2013 the Stuart, Fla. native tallied 854 assists while helping her team to the NCAA Sweet 16.  Sarah stepped up her game in the upset over sixth-ranked Florida in the second round of the NCAA Tournament with 37 assists. She recorded nine double-doubles in 2013.  Sarah is also a key sand volleyball player, where she helped the Seminoles to the national championship game in 2014.
WOMEN'S TEAM AWARD
The women's tennis team collects their tenth Golden Torch award while under head coach Jennifer Hyde. In 2014, the Seminoles qualified for their eighth-consecutive NCAA Tournament. Florida State posted a 16-13 record including seven wins over ranked opponents. The Seminoles were also categorized as an ITA-All Academic Team, while four athletes earned scholar athlete status. 
MEN'S TEAM AWARD
The Florida State men's tennis team collects its second consecutive Golden Torch award. Last season, the Seminoles went to their 12th consecutive NCAA Tournament and finished the year ranked in the Top 40 for the third straight season. The 'Noles were 18-12 last season and three players reached the 20-win plateau, led by Golden Torch winner Cristian Gonzalez Mendez's 27 victories.