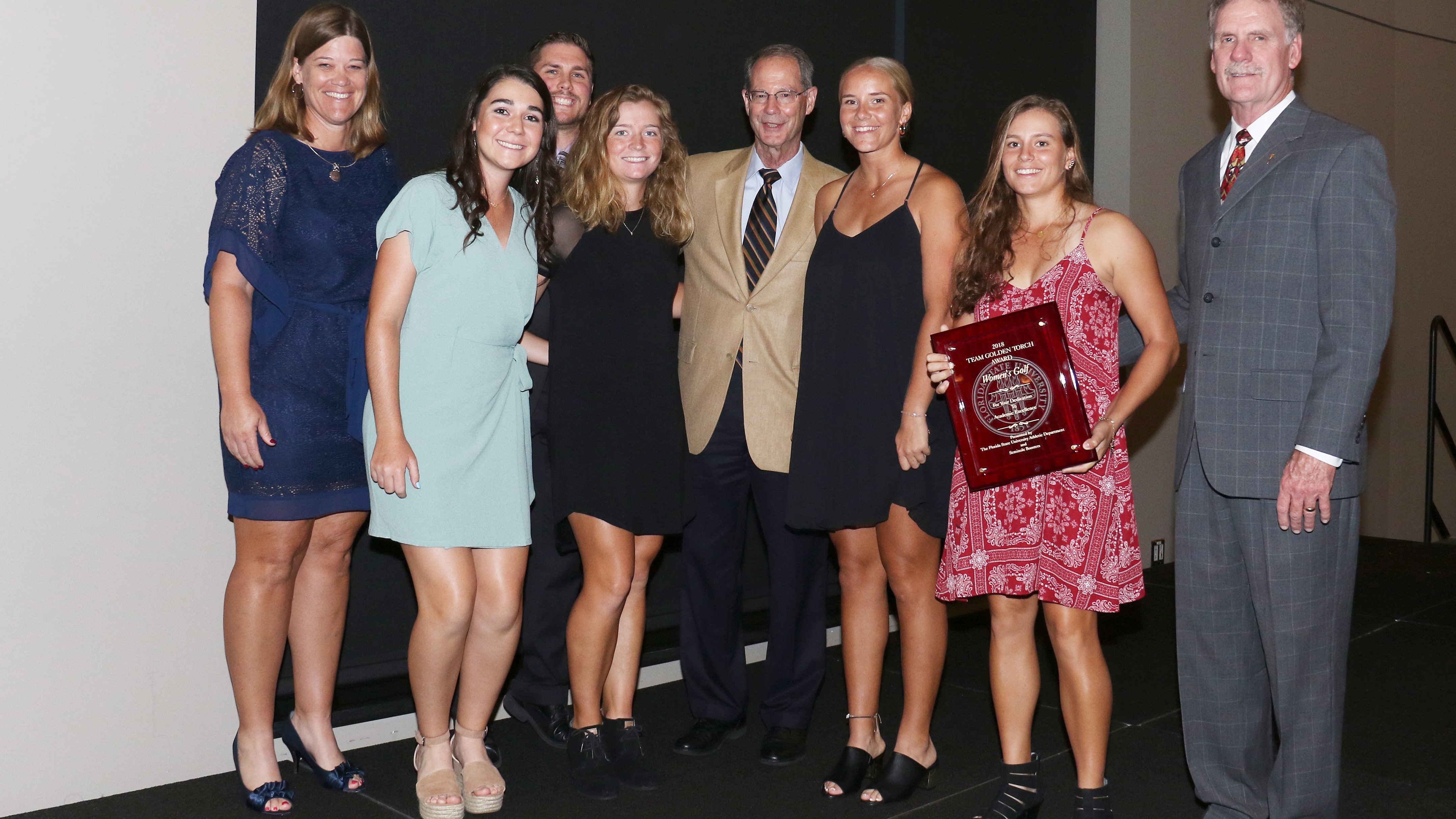 September 19, 2018 - by Steve Stone
Athletics Celebrates The Golden Torch
TALLAHASSEE, FLA. (Seminoles.com) – The Florida State Men's Cross Country Team as well as the Women's Golf Team took home top academic honors on Wednesday evening as each group was celebrated for having the highest grade point average among all athletic teams at the Golden Torch Gala held at The Dunlap Champions Club.
With several members of all 20 of Florida State's Athletics teams decked out in fancy attire, the collaborative event hosted by Student-Athlete Academic Services and the Seminole Boosters commemorated the very best and brightest academic student-athletes in the athletic department from the 2017-18 season.
Interim Athletics Director David Coburn, Seminole Boosters President and CEO Andy Miller and Senior Associate AD for Student-Athlete Academic Services Dr. Greg Beaumont were among the many athletic department representatives in attendance.
Women's Golf, led by head coach Amy Bond, certainly had a celebratory campaign in the 2017-18 year that included a Top-15 finish at the NCAA Championship Finals where it tied for 12th overall. Sisters Morgane Metraux and Kim Metraux earned the team's Golden Torch Award and were recognized for their outstanding achievements on and off the course.
"To win the Golden Torch Award in consecutive years is special," said Bond. "We appreciate how hard each team on this campus works not only on their athletic fields of competition but in the classroom. Our success academically coupled with our second-best national finish in the history of our program continues to make us very proud of our student-athletes. The academic success of the women on our team is the cornerstone of our success."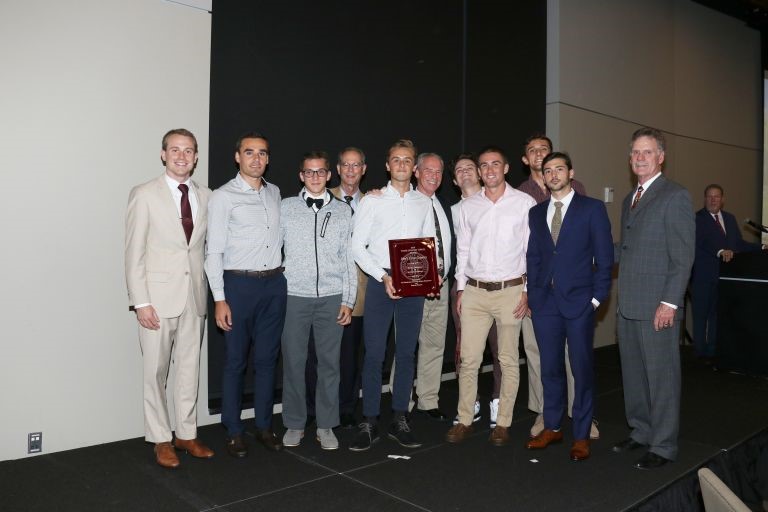 Head Coach Bob Braman's men's cross country team included three All-ACC Academic selections from this past year. David Barney, who is completing his Master's Degree in Exercise Physiology while serving as a student assistant with the team, was singled out as the team's Golden Torch Award winner for the men on Wednesday night. Barney earned ACC Performer of the Week honors last season, posted three Top 10 finishes and earned All-ACC and All-NCAA South Region Honors.
"We used to win it a lot, but it's been a while. I'm really pleased," Braman said. "It's always an honor to be the Golden Torch winner. A 3.3 GPA is pretty stout. You can't have any hiccups when you have a small team and your GPA is calculated on a small number. Everybody has been committed, and I think that's a cultural thing where the guys on the team are dedicated to their academics. I'm really pleased to be, for the first time in a long time, back with the top GPA."
The Golden Torch Gala has been celebrating the academic achievement of Florida State University student-athletes since 1991. Each of Florida State University's 20 athletic teams had a Golden Torch Award winner recognized for their tremendous GPA and commitment to the classroom.
Once again, the unwavering support of Florida State Athletics Student-Athlete Academic Services was on display as well. Per the tradition of the event, each Golden Torch Award winner had his/her picture taken with a coach and the team's academic advisor along with Miller and Coburn.
Among the 22 Golden Torch Award winners (men's swimming and diving, women's golf and women's cross country each had two), there were 16 different majors pursued. Some of the winners were not in attendance due to graduation and/or pursuing professional careers.
2018 Golden Torch Award Winners
Baseball: Cal Raleigh (Commercial Entrepreneurship)
Football: Landon Dickerson (Sport Management)
Men's Basketball: Anthony Polite (Entrepreneurship)
Men's Cross Country: David Barney (Exercise Physiology – Master's)
Men's Golf: Harry Ellis (Sport Management)
Men's Swimming & Diving: Gavin Jones (Political Science)
Men's Swimming & Diving: Chad McGuire (Computer Science)
Men's Tennis: Lucas Poullain (Sport Management – Master's)
Men's Track & Field: Conor McClain (Environmental and Society)
Beach Volleyball: Ashley Robert (Nursing)
Soccer: Gabrielle Carle (Exercise Physiology)
Softball: Meghan King (Family and Child Sciences)
Volleyball: Taryn Knuth (Sport Management)
Women's Basketball: Savannah Wilkinson (Marketing)
Women's Cross Country: Elizabeth Coen (Communication Disorders)
Women's Cross Country: Addison Coggins (Exploratory)
Women's Golf: Morgane Metraux (Management)
Women's Golf: Kim Metraux (Management)
Women's Swimming & Diving: Nicole Blank
Women's Tennis: Carla Touly (Communication Media Studies)
Women's Track & Field: Safia Morgan (Economics)
Women's Track & Field: Hannah Welsh (Criminology – Master's)