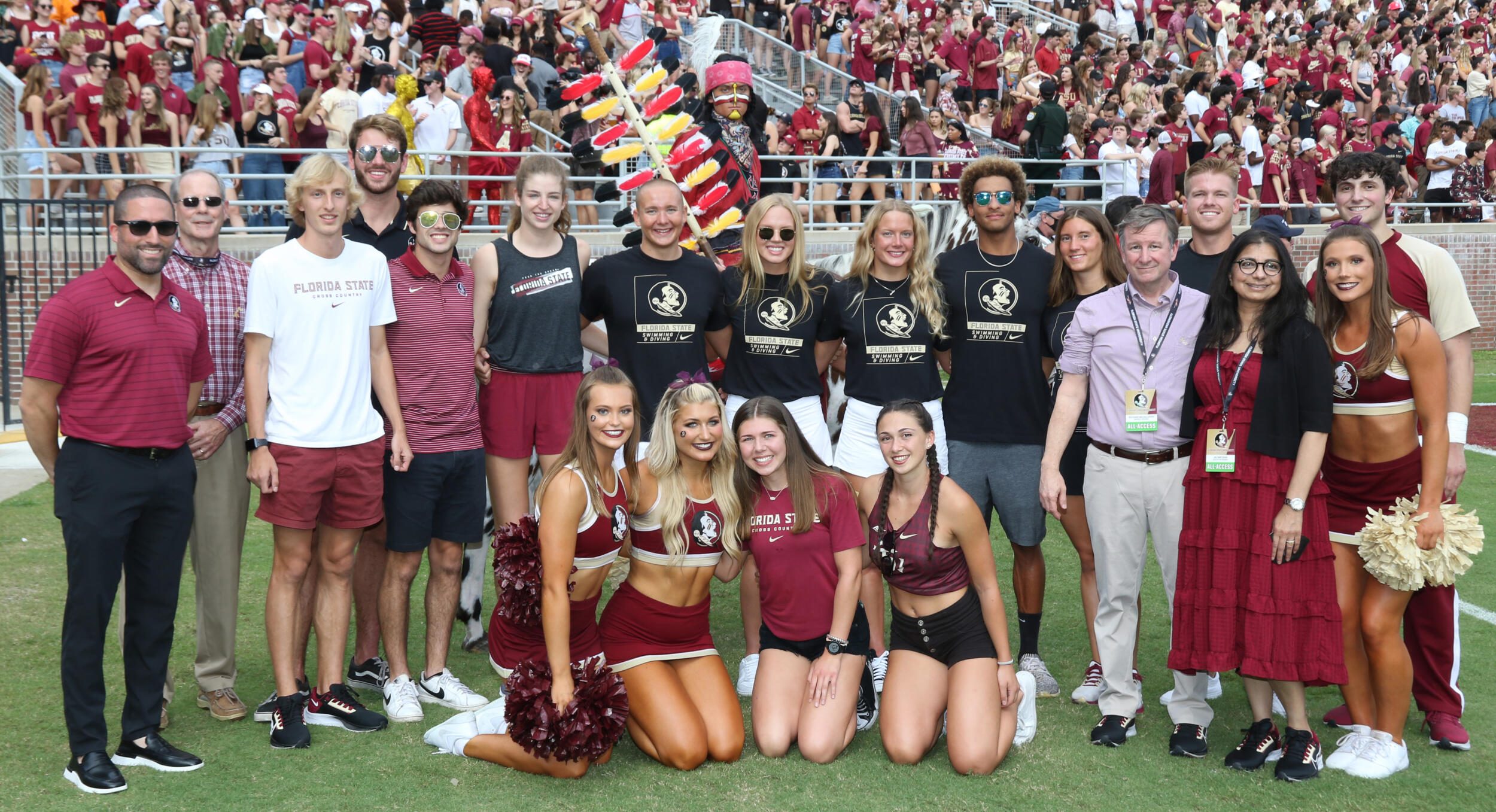 September 26, 2021 - by
29 Student-Athletes Honored As Golden Torch Winners
TALLAHASSEE, Fla. (seminoles.com) – The Florida State Department of Athletics honored 29 student-athletes as 2021 Golden Torch Award winners on the field at Doak Campbell Stadium during the Seminoles' football game against Louisville.  The honorees included athletes from all 20 sports following the most impressive academic year in department history.  The list of achievers includes 312 student-athletes who were named to the 2021 ACC Academic Honor Roll, 43 who earned a perfect 4.0 GPA and 125 who earned Dean's List Honors during the spring of 2021.
As a group, Florida State's student-athlete population of over 500 earned a record-setting cumulative GPA of 3.20 through the spring of 2021.
Over the course of the fall 2020 and spring 2021 semesters, Florida State's student-athletes earned a perfect 4.0 GPA a total of 77 times – 44 during the fall and 43 during the spring.
The Golden Torch Awards, which have been presented annually since 1991, are sponsored by the Student Athlete Academic Services team and the Seminole Boosters.  The student-athletes with the highest Grade Point Averages on each of their teams were recognized on Bobby Bowden Field during the football game.
"Our student-athletes have performed exceptionally well academically the last two years and the competition for recognition as the top performers in the classroom was particularly close last spring," said Director of Athletics David Coburn.  "We are proud to honor each of the Golden Torch winners for their excellence on and off the field."
The women's Cross Country team earned the Golden Torch team award for the second year in a row.  The team earned a cumulative GPA of 3.696 during their fall 2020 competitive season and a 3.737 during the spring 2021 competitive season.  The team totaled 36 runners who earned a GPA of 3.0 or better.
"It's an honor for our cross county women to win the Golden Torch award," said Head Track and Field Coach Bob Braman.  "Winning this Award is one of their big goals every year. Our women work really hard in their classes – they are the true example of the student-athlete.  It amazes me that they can run 50-60 miles a week and still achieve 3.7 GPA. That's 36 ladies with strong performances over the last two years."
Four members of the women's cross country team shared the Golden Torch: Addi Coggins (Marketing), Rachel Johnson (Dietetics), Jodie Judd (Editing, Writing and Media) and Maria Zupan (Family and Child Services).
"I'm honored to receive this award," said Coggins.  "My academics, on top of my sport, have been very important to me over the last four years. I think it's great that FSU puts such a big emphasis on the academic side of being a student-athlete."
The men's tennis team won then Golden Torch team award for the second consecutive season.  The tennis team has now won the award 11 times since it was first awarded in 1991 — and leads all Florida State Men's teams for total Golden Torch team wins.  Under Head Coach Dwayne Hultquist, the tennis team has won the award four times in the last eight years and seven times since 2004.
During their competitive in the spring of 2021, the men's tennis team had nine of its 12 players earn a 3.0 grade point average or better with Enzo Le Seguillon earning the individual Golden Torch award for men's tennis.  The team earned a cumulative GPA of 3.341 and was one of four Seminole men's team to earn a 3.1 or better team GPA.
"I'm very happy to win a third Golden Torch honor," said Le Seguillon.  "It means a lot to me as I put a lot of work toward my master's this past year. I also would like to congratulate the whole team in receiving the golden torch honor as well. I'm proud of this team because we take both the academic and athletic aspects of college very seriously.  I cannot wait to see what's coming for them in the future."
Harrison Prieto (Men's Basketball, Meteorology), Gabby Carle (soccer, Exercise Physiology), Taryn Knuth (Volleyball, Sport Management, Master's) Le Seguillon, Savannah Wilkinson (Women's Basketball, Media and Communication Studies, Master's) and Emmanuelle Salas (Women's Tennis, Business Management) earned the award for the third consecutive year.  Kristina Lynch (Soccer, Biological Science), Coggins, Johnson and Clayton Carlson (Men's Track and Field, Mechanical Engineering) were honored for the second time in their careers.
"The 2020-21 academic year was another year of impressive academic performances from our student-athletes," said Cathy Badger, Deputy Director of the ASSA.  "I am continually in awe of the hard work and success our student-athletes have in the classroom and in competition — 312 student-athletes on the ACC Honor Roll was a new high and we are excited to continue moving the bar."
Student-Athlete, Sport, Major
Izaak Bastian, Men's Swimming and Diving, Athletic Training
Gabby Carle, Soccer, Exercise Physiology
Clayton Carlson, Men's Track and Field, Mechanical Engineering
Addi Coggins, Women's Cross Country, Marketing
Preston Daniel, Football, Finance
Josh Davidson, Men's Swimming and Diving, Mechanical Engineering
Cassidy Davis, Softball, Psychology
Marielle Diaz, Beach Volleyball, Clinical Professions
Jenny Marie Halden, Women's Swimming and Diving, pre-Civil Engineering, Environmental
Alex Hilton, Beach Volleyball, Hospitality and Tourism Management
Rachel Johnson, Women's Cross Country, Dietetics
Jodi Judd, Women's Cross Country, Editing and Media
Taryn Knuth, Volleyball, Sport Management (Master's)
Nina Kucheran, Women's Swimming and Diving, Exercise Physiology
Enzo Le Seguillon, Men's Tennis, Sport Management (Master's)
Kristina Lynch, Soccer, Biological Science
Harrison Martingayle, Men's Cross Country, JD/Sport Management (Master's)
Nicholas Mason, Men's Swimming and Diving, Psychology
Madeleine McDonald, Women's Swimming and Diving, Biological Science
Kyle McMullen, Baseball, Civil Engineering
Erin Murphy, Beach Volleyball, Computer Engineering
Vincent Norrman, Men's Golf, Social Science
Elise Olsen, Women's Swimming and Diving, Professional Sales
Harrison Prieto, Men's Basketball, Metrology (Master's)
Taylor Roberts, Women's Golf, Sport Management
Emmanuelle Salas, Women's Tennis, Boniness Management
Savannah Wilkinson, Women's Basketball, Media and Communication Studies (Master's)
Sara Zabarino, Women's Track and Field, Environment and Society
Mariah Zupan, Women's Cross Country, Family and Child Services