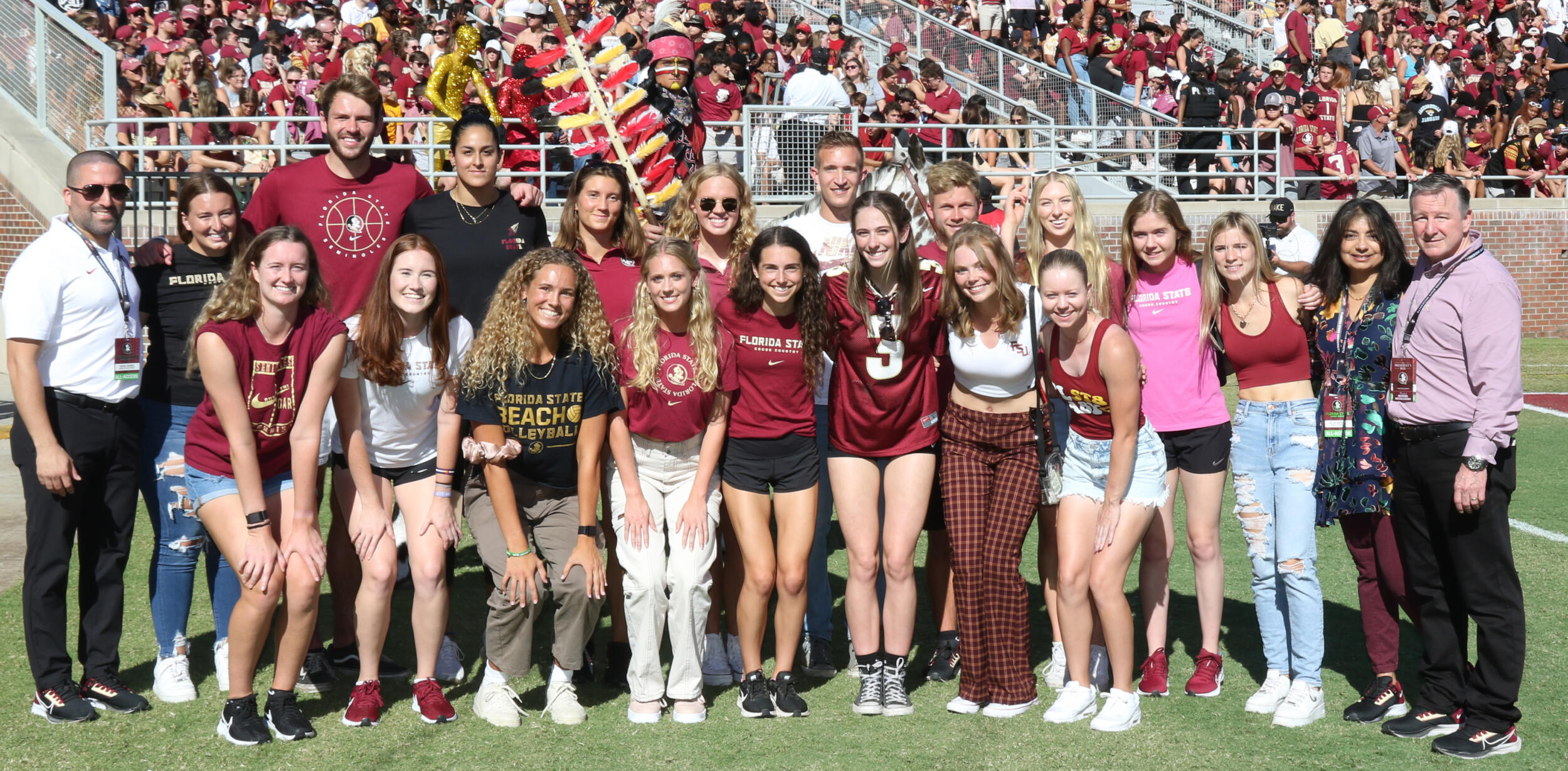 October 1, 2022 - by
Golden Torch Winners Honored For Academic Success
TALLAHASSEE, Fla. – The Student-Athlete Academic Services Office of the Florida State Department of Athletics honored 39 student-athletes as Golden Torch Award winners in a ceremony during the Seminoles' football game against Wake Forest on Bobby Bowden Field at Doak Campbell Stadium.  The student-athletes with the highest GPA's on their respective teams along with the men's and women's cross country teams were recognized during the presentation.  Both cross country teams were honored for earning the highest cumulative GPA among the Seminoles' 20 athletics teams.
"The Golden Torch recognition of our student-athletes for their high achievement in the classroom is important to our overarching goal of not only producing exceptional athletes but outstanding students and future leaders in their communities," FSU Vice President and Director of Athletics Michael Alford said.  "The fact that the award is so competitive within each of our sports speaks to the depth of quality young people we have representing Seminole athletics."
The women's cross country team was highlighted as 14 student-athletes who were recognized for having earned perfect 4.0 grade point averages during the 2021-22 fall and spring academic semesters.  Additionally, Matthew Owens of the men's cross country team was honored as its Golden Torch Award winner.
"I'm really proud of our cross country athletes," said Head Track and Field and Cross Country Coach Bob Braman.  "They're highly disciplined by definition of their sport, and it's really exciting to see them carry that work ethic to the classroom. I couldn't be more proud to have our teams be the best students in the entire athletic department."
Among the honorees were National Champion Trey Cunningham (men's track and field), Lauren Flynn and Emma Bissell of the national championship women's soccer team, Ali Dubois of the top-five ranked softball team, ACC Champion Ruby Stauber of the women's track and field team and Alice Hodge of the NCAA quarterfinalist women's golf team.
"We could not be prouder of these student-athletes for setting the standards of academic performance and achievement for their respective sport programs," said Miguel Negron, Associate Director of Athletics for Student-Athlete Academic Services.  "Each individual Golden Torch Award winner proves that it is possible to excel at the highest level academically while competing for championships on the field of play."
Presented each year since 1991, the Golden Torch Awards have extolled the academic achievements of Florida State's student-athletes for more than 30 years.  The men's cross country team has won the award for the highest cumulative GPA among all men's teams in three of the last five years and 10 times overall.  The women's cross country team has won the team GPA award in three consecutive years and four times since 2007.
2022 Golden Torch Winners
Player, Sport
Dylan Simmons, Baseball
Brett Roberts, Baseball
Preston Daniel, Football
Harrison Prieto, Basketball
Matthew Owens, Men's Cross Country
Joshua Stewart, Men's Golf
Jackson Seith, Men's Swimming and Diving
Alex Bulte, Men's Tennis
Trey Cunningham, Men's Track and Field
Erin Murphy, Beach Volleyball
Alex Hilton, Beach Volleyball
Lauren Flynn, Soccer
Emma Bissell, Soccer
Ali DuBois, Softball
Audrey Koenig, Indoor Volleyball
Mariana Valenzuela, Women's Basketball
Lauren Bing, Women's Cross Country
Addi Coggins, Women's Cross Country
Ashley David, Women's Cross Country
Kathryn Hibbard, Women's Cross Country
Alondra Lopez, Women's Cross Country
Maudie Skyring, Women's Cross Country
Madison Slater, Women's Cross Country
Summer Steere, Women's Cross Country
Kaia Stevenson, Women's Cross Country
Ella Swigler, Women's Cross Country
Dani Thompson, Women's Cross Country
Emma Jane Warren, Women's Cross Country
Caitlin Wilkey, Women's Cross Country
Quinn Wilson, Women's Cross Country
Madison Hewlett, Women's Golf
Alice Hodge, Women's Golf
Jenny Halden, Women's Swimming and Diving
Madeleine McDonald, Women's Swimming and Diving
Skylar Ruffner, Women's Swimming and Diving
Jesco Helling, Men's Swimming and Diving
Vic Allen, Women's Tennis
Ruby Stauber, Women's Track and Field
De'Andreah Young, Women's Track and Field
Men's Team GPA Winner: Men's Cross Country
Women's Team GPA Winner: Women's Cross Country